Well today (May 11) for my trip to Bath, I gambled whether I could get away with wearing sandals and a tank top today, and I won! It was so warm and sunny all day today.
I took a 10:00 train to Bath which took about 1.5 hours. When I got there I had to find a map and get my usual postcard (which I collect from every city I go to). It's such a beautiful town!! I walked to Pulteney Bridge where the river flows over what looks like curved steps; It's very pretty. I walked over the bridge and explored part of the right side of the city and saw a townhouse which Jane Austen lived in for a while.
I wandered back across the bridge to the other side and walked up to The Circus and Royal Crescent. On my way up I stopped in the Costume Museum which housed a bunch of original outfits worn over the centuries. (my camera didn't work very well, but I did get a pick of a more recent dress – the JLo 2000 Grammy dress). I also stopped in this cute little shop which had jewelry and knickknacks everywhere, even hanging from the ceiling! I bought a pink pearl necklace (not real though).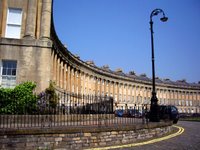 After the Royal Crescent, I headed back down and went to the Jane Austen Center. It was interesting! I found out a bunch about Jane Austen's life and I have a better understanding of her point of view when her stories were written (she was a lot like Elizabeth Bennet). I bought a making of Pride and Prejudice book.
What next? Oh yes! The Roman Baths! This is a must-see if you come here! There are Roman ruins below the city and one of the major finds was a Roman bath spa complex made from a natural hot spring. When you go to the exhibit you can see what they've uncovered and you can tell how great it must've been when it was in use! There were a network of baths and rooms: saunas, hot tubs, a cold pool, and an over flow system which is still in use today. You can feel the warmth in the rocks and the water (because there is still a hot spring there).
After the Roman Baths, I had some tea and a scone and explored the city some more. It's quite small so it's easy to walk everywhere! It's really nice to walk along the river: just beautiful!!!
I caught the train back at 7:45 and got home at 10ish. I'm so tired now and I start my job tomorrow, so we'll see how that goes!
M